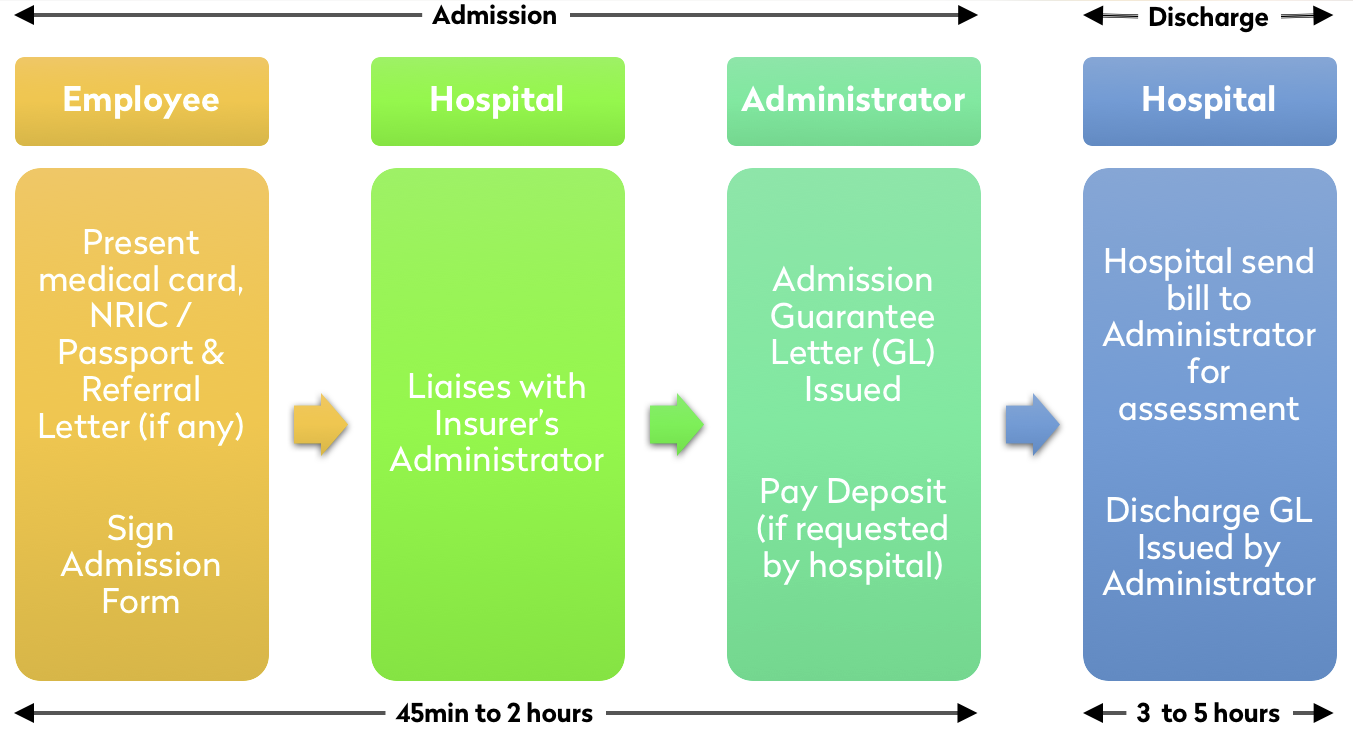 Before admission
Your medical claim is only applicable to the necessary hospital admission. It does not cover
Routine checks
Admission solely for investigations or diagnostic tests
Hospital admission for medical treatment that can be safely and effectively received at home or in an outpatient setting

Pre-admission
Proceed to the admission counter and present:
Your NRIC or equivalent
Medical card (if available) for verification.
Referral Letter (If required)
Admission
Most medical procedures can be planned ahead, and the decision to be admitted can be made prior to the date of admission. We encourage non-emergency cases to be managed as pre-planned or daycare/day surgery admissions.

Day Care/Day Surgery may also be considered as Pre-planned Admissions for medical procedures that do not require an overnight stay at the hospital.

We encourage you or your specialist to request a Pre-Authorisation Letter (PAL) at least 48 hours prior to the date of admission.
Ask your doctor if a medical procedure can be done as a Day Care / Day Surgery procedure, where hospital stay is not necessary.

The most common daycare/day surgery procedures include but are not limited to the following:
| | |
| --- | --- |
| General Surgery | Excision of cyst/ganglion; biopsy (renal, liver, lung etc); excision of breast nodule/lumps |
| Gastroenterology | Gastroscopy/colonoscopy |
| Ophthalmology | Most eye surgeries (e.g. cataract, surgical excision of pterygium) |
| Urology | Extracorporeal shock wave lithotripsy (ESWL) - treatment of stones in kidneys |
| Orthopaedic | Carpal Tunnel Syndrome release; Arthroscopy |
| Obstetrics & Gynaecology | Hysteroscopy, Cone Biopsy |
| Oncology | Chemotherapy/Radiotherapy |
Discharge
You're ready to go home! Here's a guide to make the discharge process as smooth as possible:
The hospital staff prepares your discharge bills. Wait patiently.
Proceed to discharge counter, carefully check your bills and sign to approve.
The hospital will contact your insurance provider and fax them the final bill.
Once the bill has been fully settled, you can be discharged!