Note:
At the moment, Swingvy bank files only support DBS, UOB, OCBC and Maybank.
Kindly make sure that the company account number has been updated in the settings.
To update, go to Payroll > Settings > Company settings > Bank information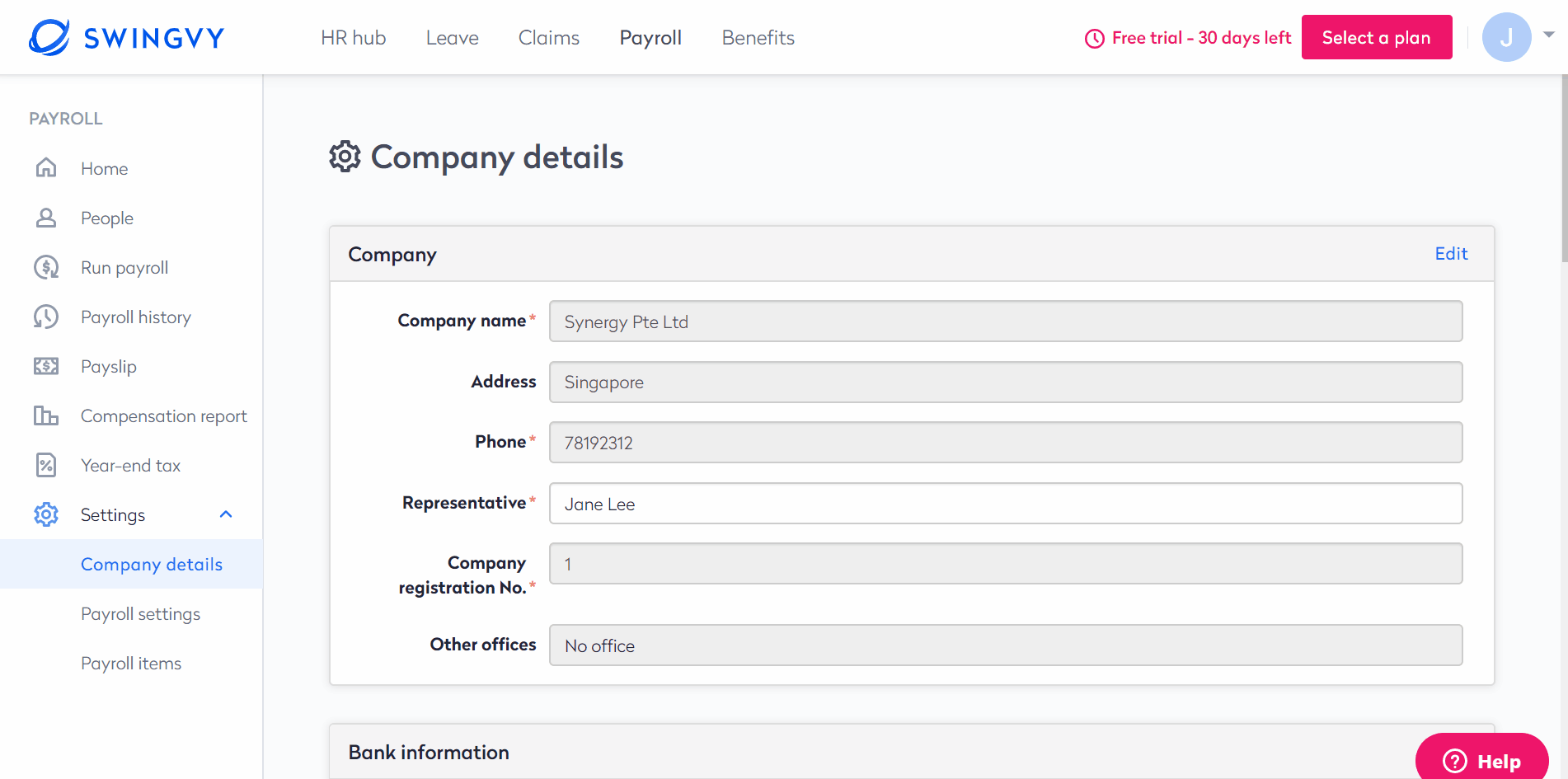 Select the bank name for the payroll payment transaction (the compatible bank file will be generated upon the payroll completion).
Note:
At the moment, there are few bank files supported in Swingvy for the bank below:
DBS Bank
UOB
OCBC
Maybank Berhad
Singapore bank and branch code guide


Bank Name
Branch Code
Account No (Example)
Bank File Format
Remark
DBS
005
0052312891
GIRO
Usually 10-digit account number


Use the first 3 digits of the account number as the branch code
Example: For account 0052312891, the branch code will be 005
(Account number will remain as 0052312891)

The "Sender's Company ID" refers to the Company ID given by DBS to login to DBS IDEALTM. All alphabet characters should be in capital letters.

OCBC
550
1089550
GIRO

Length of account number varies

Use the first 3 digits of the account number as branch code
Drop the first 3 digits of the account number for the account number field
Example: For account 5501089550, the branch code will be 550 and the account number will be 1089550

UOB
030
9102031012
BIBPlus

10-digit account number

Use the first 3 digits of the account number and refer to Appendix A to retrieve the corresponding branch code.
Example: For account 9102031012, use 910 to refer to Appendix A to retrieve the branch code 030
(Account number will remain as 9102031012)

Maybank
N/A
1234567890
BIB APS+
10-digit account number
POSBank
081
084102395
GIRO

9-digit account number

POSBank now operates as part of DBS Bank. Use 081 as branch code for all POSBank accounts and select DBS Bank instead.

Standard Chartered
018
1803645852
N/A

10-digit account number

Use '0' + 1st two digits of the account number as branch code
Account number: the full 10 digit account number

HSBC Corporate
146
172002492
N/A

Length of account number varies

Use first 3 digits of Account No as Branch Code
Drop first 3 digits of Account No for the Account No field
Example: For account 146172002492, the Branch Code will be 146 and the Account No will be 172002492

SBI
277
67012518738
N/A

Length of account number varies

Use first 3 digits of Account No as Branch Code
Drop first 3 digits of Account No for the Account No field
Example: For account 27767012518738, the Branch Code will be 277 and the Account No will be 67012518738