Leave > Settings
All employees, even on probation and part-time are normally entitled to annual leaves.
Eligibility
An employee's leave entitlement depends on how many years of service they have with your company.
If you have a new hire that is joining in the middle of the year and you practice giving leave proration, here's how you can set it up within Swingvy.
Example scenario:
Leave cycle: Fiscal year basis
Start month of fiscal year: January
Leave entitlement: 16 days
Leave proration formula
Prorated leave entitlement = (the number of expected months of service in a year / 12 months) * the number of leave entitlement days provided by company)

New employee join date: May 1, 2020
Current date: May 15, 2020
Leave entitlement: 16
Prorate: May 2020 until Dec 2020
Employee leave balance: (8 months / 12 months) * 16 days entitlement = 10 days

Step 1 - Set leave type cycle basis
By default, Swingvy sets January as a general cycle basis: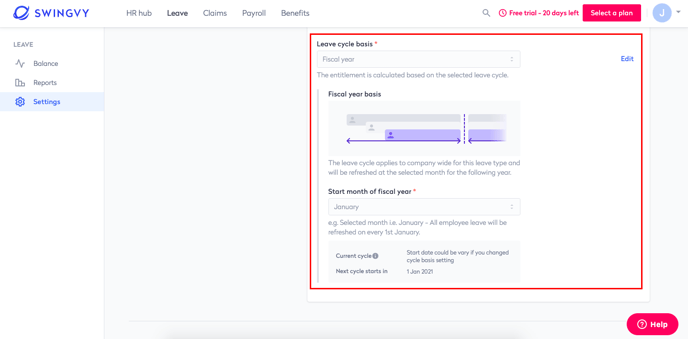 Step 2 - Kindly ensure your leave entitlement setting is right, based on the sample scenario, your employee is given 16 days Annual Leave entitlement
Leave > Settings > Annual > Entitlement group settings > ensure it's 16 days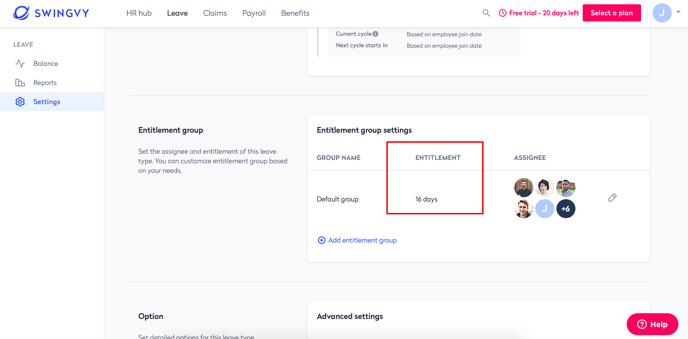 Step 3 - Update leave entitlement balance according to the above formula
Employee leave balance: (8 months / 12 months) * 16 days entitlement = 10 days
Under Balance > Select new hired employee name > Select add or subtract > Enter the number of days> Put a remark for future reference