Approve or decline overtime request
You can approve or decline an OT from the mobile app. To approve the overtime request, please follow below steps:
Step 1: Log in to mobile and click the Time button
Step 2: Scroll down until approval history.
Step 3: You can click view now or any request that is still pending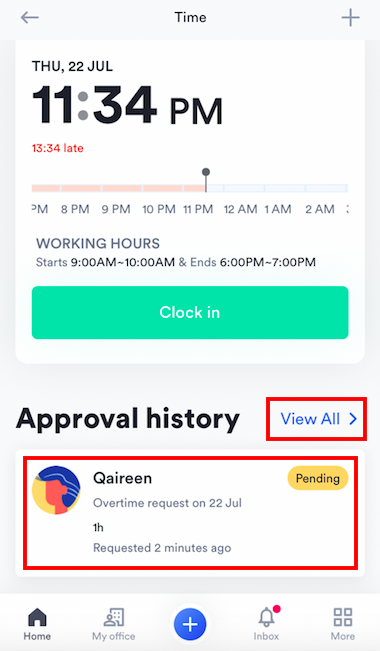 Step 4: approve or decline the request accordingly.
On the other hand, you can also revoke the approval should it is wrongly approved.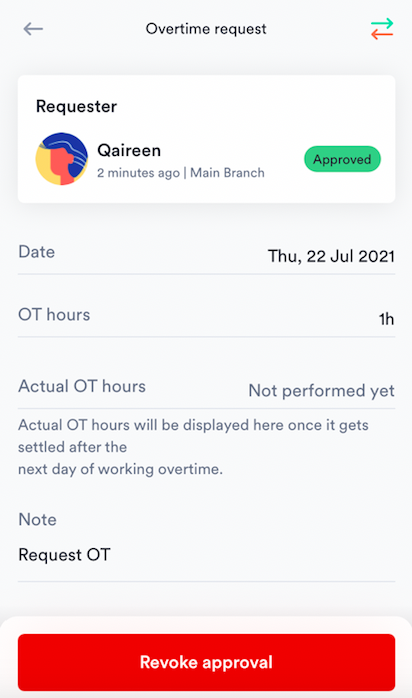 Note:
Before approving an OT request, you can check the actual hours of OT based on the clock in and clock out time. You can also view the timesheet of the employee by clicking the green and red arrows on the top right corner
Important note!
If your company subscribes to Swingvy payroll and uses OT policy settings, you have to be aware that overtime requests follow the policy which was applied at the time of the request. For example, if your employee requested overtime on a future date and your company changed the overtime policy witihin that period, the request will still follow the previous policy.