You can now earn cash rewards by referring your friends to Swingvy!
How to refer a friend?
You can send the invitation by email, social media posting, or your unique referral link in 'Invite friends' menu to start earning cash rewards. Please follow the below steps to start referring: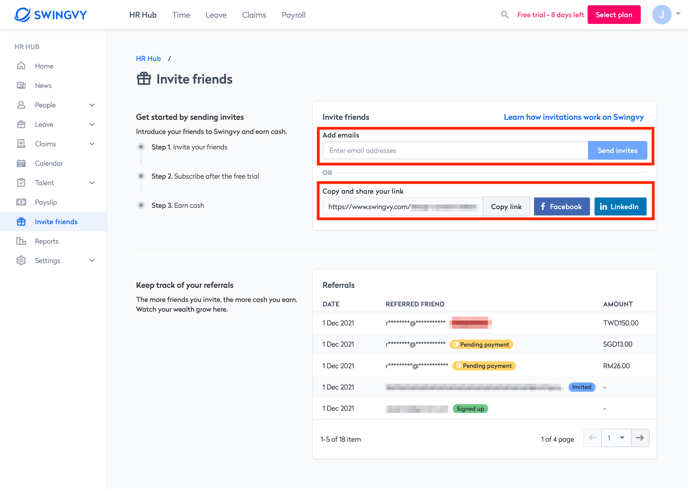 By email invitation:
Step 1 - Go to 'Invite friends' menu under HR Hub
Step 2 - Add emails that you want to invite to Swingvy
Step 3 - Click 'Send invites'
By referral link:
Step 1 - Go to 'Invite friends' menu under HR Hub
Step 2.1 - Click 'Copy link' and paste it wherever you want to share
Step 2.2 - Click 'Facebook' or 'LinkedIn' to post on your Facebook and LinkedIn newsfeed


How to track?
You can track all new accounts that sign up through your referral link. At the referral tracking table below, you can check the status of each referral including payment status as well.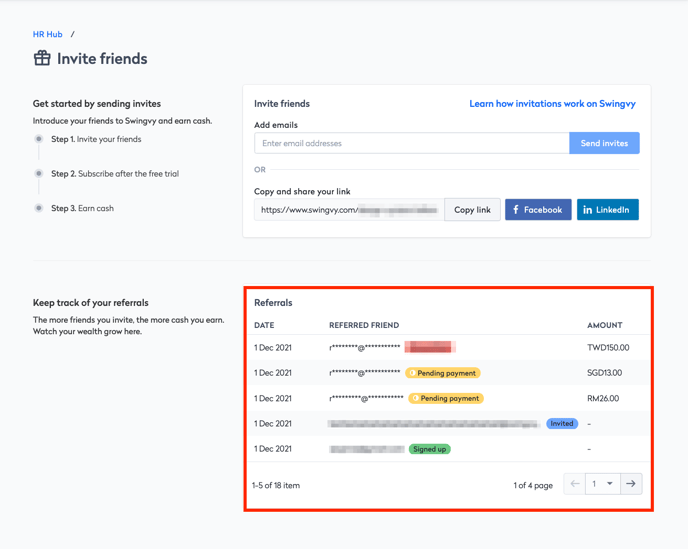 The definition of Status
Invited - When you send an invitation email
Signed up - The referee has signed up an account with Swingvy
Subscribed - The referee starts the subscription with Swingvy
Pending payment - The referee paid the first invoice and you are qualified to receive the referral fee
Paid - The referral fee has been paid to you


How to earn cash?
We will do the internal verification to confirm the qualification of receiving the fee.
For qualified referrers, you will receive the amount of the one month's charge of the referee's invoice. The payment will be done on a monthly basis and we will transfer the referrals fee to your bank account.
Swingvy support team will get in contact with you for the bank details and please ensure to always check your email.
Terms & Conditions
To earn, the person you refer must sign up for a paid Swingvy subscription and complete the first payment. You will then receive the one month's fee within 30 days. Does not apply to administrators of multiple accounts.

To be eligible, your friend must sign up through your own personal referral link, invitation email, or social media posting. Swingvy reserves the right to declare a referral ineligible for the promotion if Swingvy believes that you are abusing the referral program.