The bank file format for DBS is DBS Giro file. Downloading and uploading the bank file is very simple and easy. You can upload your bank file in your DBS Ideal account (DBS internet banking platform) to effect automated GIRO transfer of salaries to your employees.
In Swingvy, go to Payroll > Settings > Company details > Bank information and confirm that all information has been keyed in correctly. Whether your corporate/company bank account is with POSB or DBS, select DBS under this setting.
Ensure that your bank file format is selected as "GIRO". This is a one-time setup.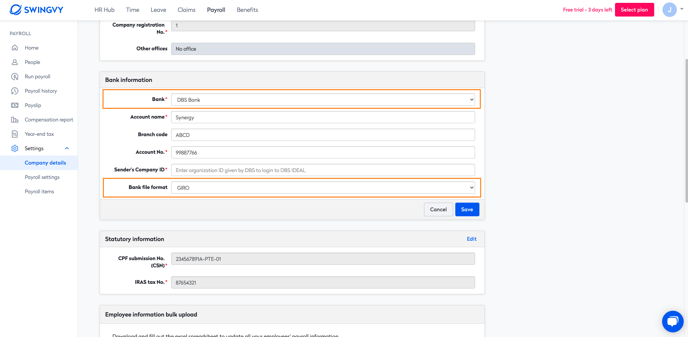 Note:
The "Sender's Company ID" refers to the Company ID given by DBS to log in to DBS IDEALTM. All alphabet characters should be in capital letters.
Once you've set this, you can download your bank file after completing your Payrun (at Step 3).
Otherwise, if you've completed the payrun, you may download your bank file anytime through Payroll > Payroll history > select the month's payrun you desire > download bank file.
Note:
The Value date of the bank file will be the downloaded date. This can be amended on DBS Ideal.

You can follow the step below to upload, submit and process payroll through DBS.
1) Log in to your DBS IDEAL account. Select "Files" and click on "browse for files".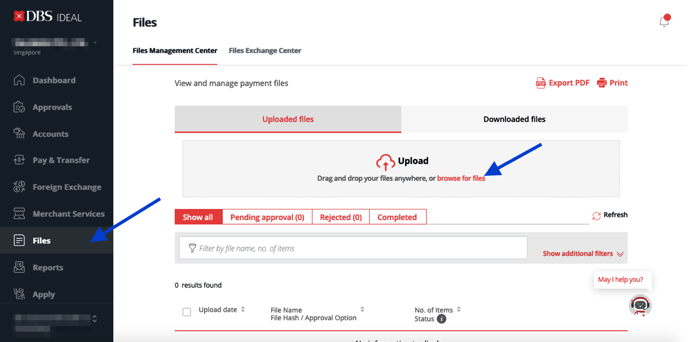 2) Choose the DBS Bank File downloaded from Swingvy to upload to DBS IDEAL and click on "Open".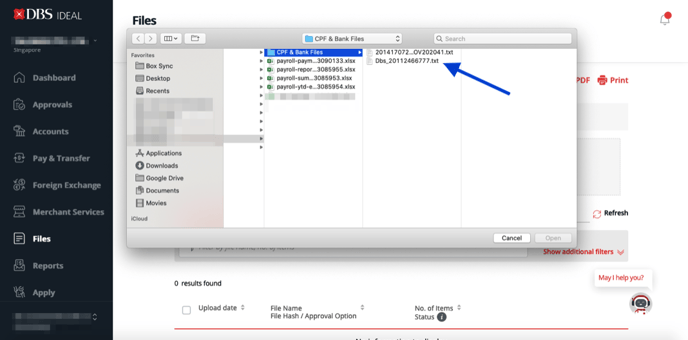 3) Choose "Payroll" as the payment type and "Payroll - New Interbank GIRO" as the file format.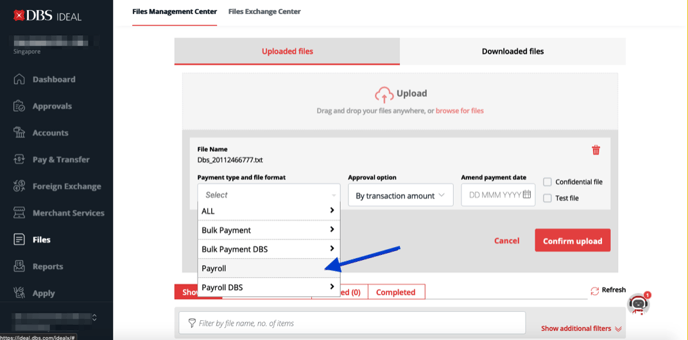 4) Confirm your Approval option, which is usually the "By transaction amount" option. Select Amend payment date, which is the valuation date (normally 2 working days before the employee pay date when employees will receive their salaries). Select "Confirm upload" to submit.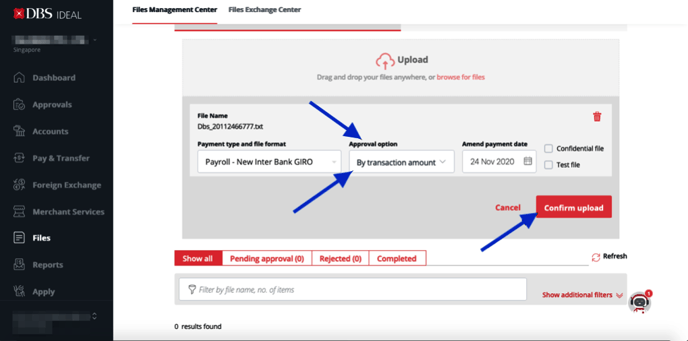 5) Once the submission is successful, click on "OK" and head over to approve your bank file.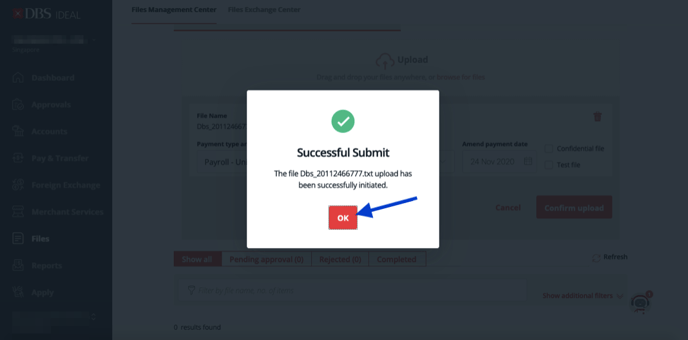 6) Over at "Approvals", you can view the net salaries breakdown in the bank file before approving the bank file for salary disbursement. Thereafter, approve with your DBS digital token.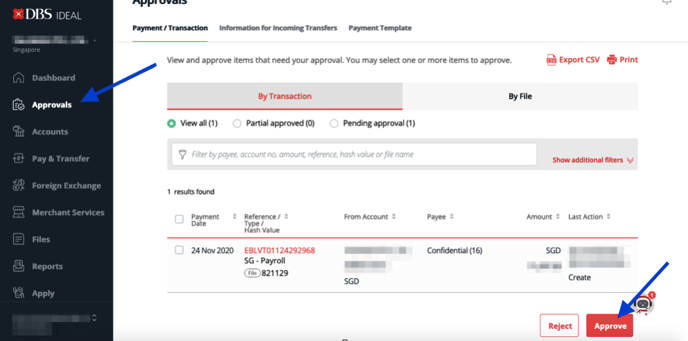 Your DBS file upload is completed. Should you have more than 1 level of approval, please kindly follow your access level set with DBS.
Click submit if all details are correct. The profile created is complete and you may use it for the upcoming salary cycle
Note:
Should you require any clarifications, you can contact DBS BusinessCare at 1800-222-2200 (Monday to Friday: 8:30am – 8:30pm) or email them at businesscaresg@dbs.com.sg.