To use Maybank, you need to ensure the setting of bank information in the bank information is properly set.
Payroll > Setting > Company details > Bank information

Then, when payroll is ready, you can download the bank file at step 3 payroll, payment and submission. Please follow the below step to make payment for payroll:
Step 1 - Login to Maybank Business Internet Banking (BIB) portal and click Aps+ Services
Step 2 - Click on the "Payments to PayNow ID and Account number(ENhanced)" option on the left menu and select "New File Submission".
Step 3 - Provide all details and the select file downloaded from Swingvy, then, click upload
Step 4 - After all data records is processed and no issues, you can click proceed button
Step 5 - Review all details and request approval. Enter the One-TIme Password and click on the "Confirm" button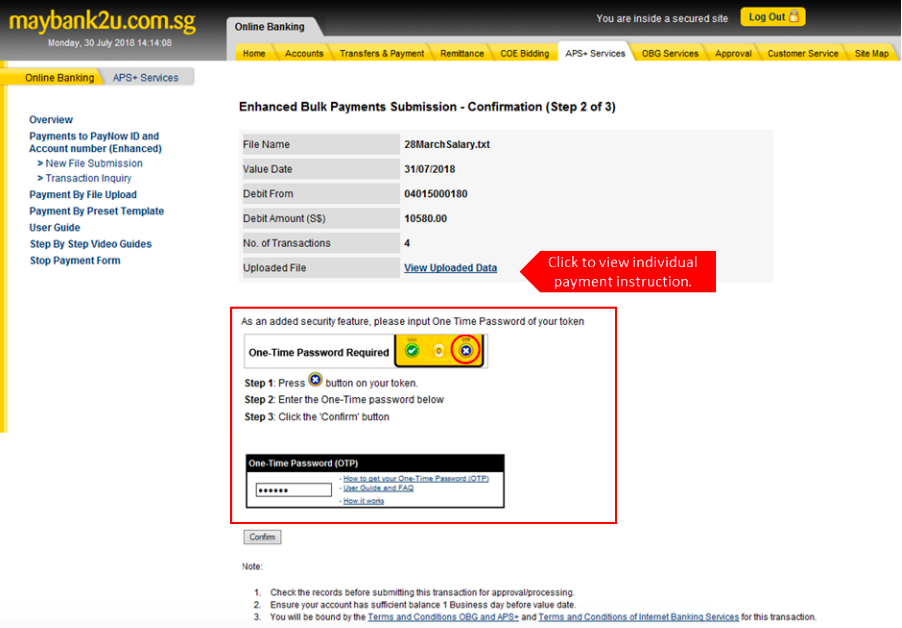 Note: For companies with Single Control (User control option) and Any One (Approval Mandate) setup, the Creation part will also be the Approval part if the submission is done by an Authorised User with Approval Function. An authorised user will directly see the final screen transaction instead of the request approval status page.
For Approvers:
Step 1 - Login to BIB and click on the Approval menu option
Step 2 - Select the type of transaction to approve (APS+)
Step 3 - Select the list of pending approval and click approve to proceed

Step 4 - Review the payment details, enter the One-Time password and click on the "Confirm" button