Once you've completed the company information setup during the onboarding process, it's simple as 123 to run payroll in Swingvy. We've streamlined the process to give you the easiest way to complete your payroll, from updating payroll data to payment in less than 10 mins.
To access your payroll and start running payroll please follow below guides:
Step 1 - Click Payroll from the top Menu bar.
Step 2 - Click Run payroll from the menu to start your payroll.
Step 3 - Select the payroll period and payroll type
Step 1 - Adjust payroll
Under the first step of 'Run Payroll', all the active employees for the month will be auto-populated in the current month payroll period. Click on the employee records to expand the view to manage the payroll items.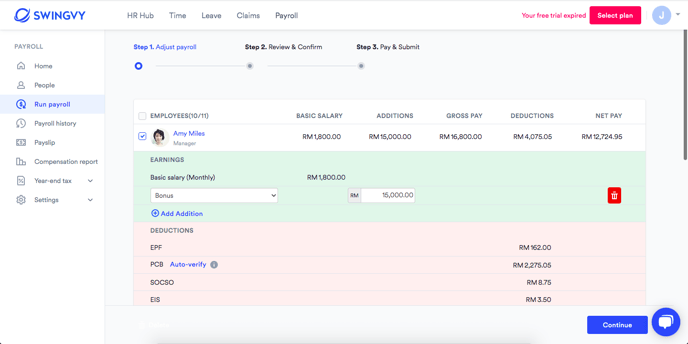 Swingvy payroll auto-populates all fixed payroll items for the respective employees based on the setup you've applied in payroll settings. You can always review and change these payroll item in the settings menu.
To add addition payroll item - Click on the Add Earning button and select the new item from the master list.
To remove the payroll item from the particular month of payroll - Click on the delete button next to it.
Note:
If the item is a fixed allowance and you delete it from the current month payroll, it will be removed in the following months' payroll as well unless you add it back.

The statutory computation will auto-calculate once you change the amount of any payroll items which are subjected to CPF & SHG-CDAC. Click on Save & Review to move on to next step.
Step 2 - Review and confirm
A summary for the particular month payroll will be presented (total headcount and total payout).

Click on Continue and Confirm for finalisation.

If you've enabled Payroll Approval settings, you can only proceed once your payroll approver has approved your payroll.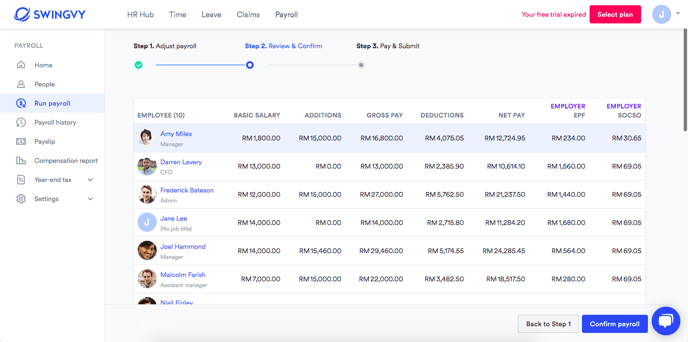 Note:
1. Click "Back to Step 1" should you need to return to step and adjust your payroll.
2. Once you confirm your payroll at Step 3, the process is irreversible. Please ensure the headcount is correct and all payroll items are well maintained. In case you'd need to reverse the steps, kindly contact Swingvy Customer Success team
Export bank file
Export statutory reports
Once you got all the payroll reports export, you may proceed to complete the payroll. It will store the data in history, if you need to retrieve your payroll history, you may find it in the payroll history menu.