Getting started with Swingvy Payroll is as easy as ABC. There are only 4 simple steps to ensure a smooth payrun:
Step 1 - Fill up the company information

Step 2 - Fill up and set up the payroll details

Step 3 - Fill up and upload the employes' information

Step 4 - Fill up and upload the employees' history data

In this series of articles, we'll take you through the details needed for setting up the Payroll module.
To get started, head over to Payroll > Settings > Company details, you can click on 'Edit' to fill in the information.
Company details
Under company details, you can fill in your company information such as:
- Company name
- Address
- Phone
- Representative
- Company registration number
- SST number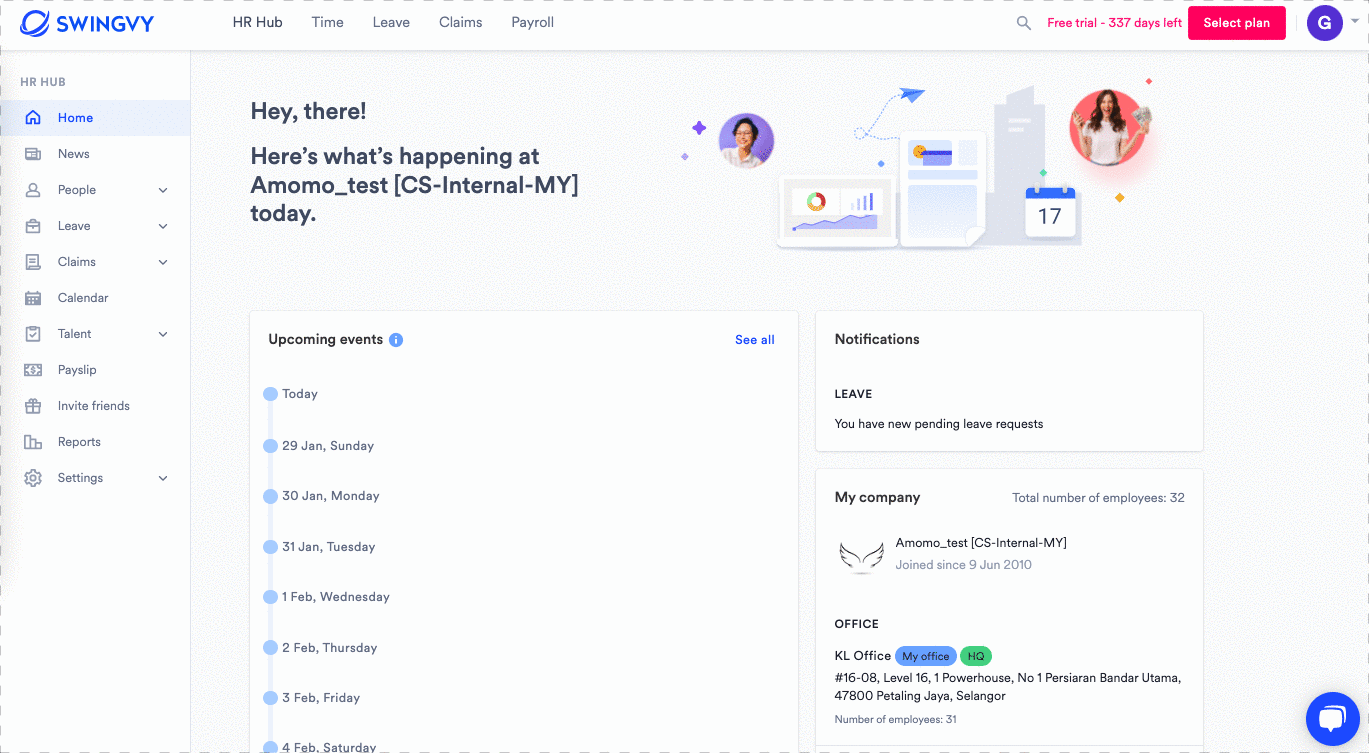 Note:
1. Company name, Address & Company Registration No. will be displayed in the payslips and the statutory reports.

2. The representative name will appear on the EA form. Other than the administrator, the Payroll Representative can be assigned to any of the active employees.
Bank information
The bank information is mandatory to auto-generate the bank file upon payroll completion. You can upload the bank file into the bank portal to process payments for both employees' salary and statutory bodies.
Under this setting, you can select the bank name for the payroll payment transaction (the compatible bank file will be generated upon payroll completion). For some banks, you will be required to enter specific information for the banks.
Bank Name
Organisation code
Originator ID
Bank file format options
CIMB Bank Berhad
Mandatory
N/A

BizChannel@CIMB Bulk Payments

Hong Leong Bank Berhad
Optional
N/A
Malayan Banking Berhad (Maybank)
N/A
Mandatory

Maybank Autocredit System (MAS)
Maybank2E
Maybank2U Biz

Public Bank Berhad
Optional
N/A

PB ECP via PB Enterprise

PB ECP via PBe Business Banking

Standard Chartered Bank Malaysia Berhad
Optional
N/A
OCBC Bank (Malaysia) Berhad
Optional
N/A
Note:
1. What is the organisation code?
Organisation code is a code given by the bank (only CIMB will require this). For first-time performing bulk payroll payments via a single file upload, please contact Business Call Centre at 1300 888 828 or email mybusinesscare@cimb.com to request for Organisation Code.
2. What is the originator ID?
The originator ID is also known as the organisation code. This ID is provided by the bank (for Maybank AutoCredit Customer). Please contact Maybank care line for more details.
3. What is the bank file format?
Bank files format varies as it follows the format set by the bank. Swingvy supports the bank file of CIMB Bizchannel, Maybank2U Biz .csv format, Maybank Auto credit System (MAS), Hong Leong Bank ConnectBIZ, and Public Bank (PB ECP). We will keep on adding more bank files from other banks in the future.
Statutory information
The company's statutory information contains the numbers that can be obtained from each statutory body upon employer registration. This information is needed for monthly statutory file/report generation.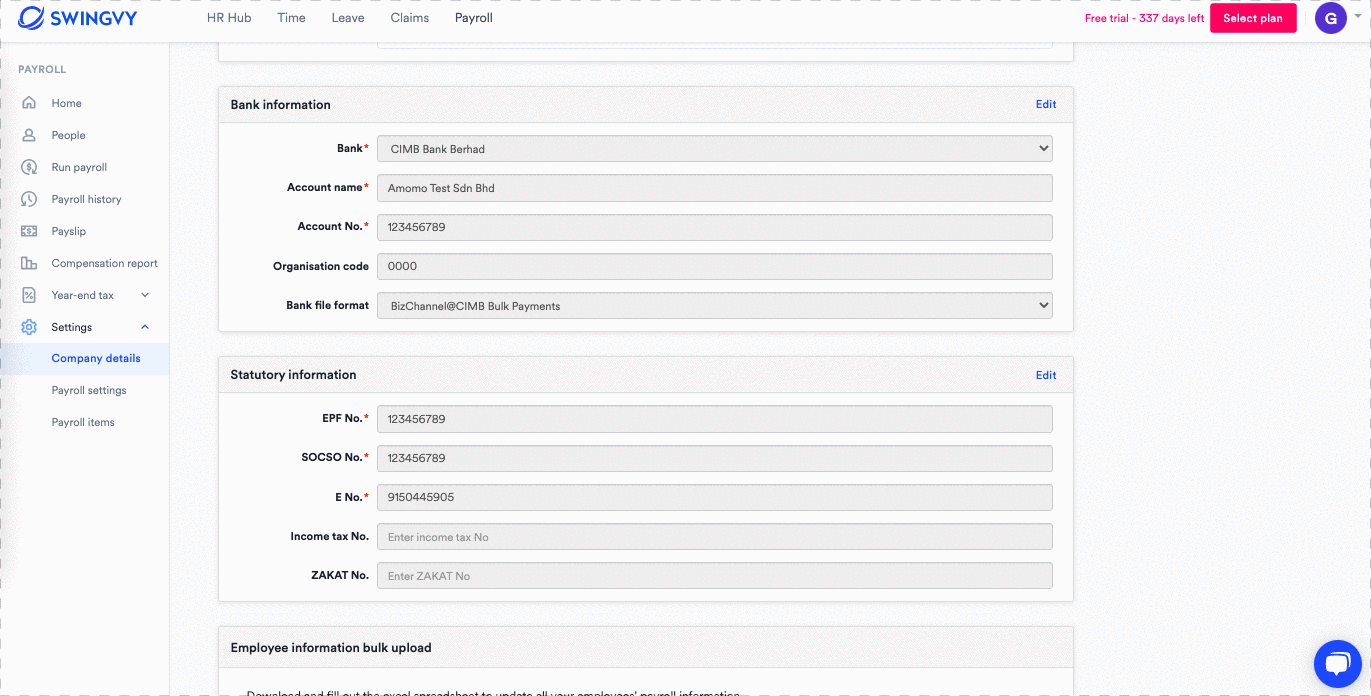 Note:
The company E No. (Nombor Majikan) will be captured in the monthly PCB submission file and it can be found in Form E under LHDN.
Once you've filled in the company details, you can go ahead and fill in and set up the payroll details.