Setting up your company in Swingvy is pretty straightforward. To begin, follow these steps:
Click on Continue at the Complete your profile banner OR
Navigate to Hr Hub > Settings > Company settings
Things to consider in these steps
Set your company name and logo

Configure your office details
1. Set your company name and logo
Set your company name and logo here.
Step 1 - Upload company logo
Click Choose File or drag-and-drop a file from your computer that will serve as your organisation logo.
Company logos must not exceed 200 x 200 pixels. File size limit: 5MB. We accept format jpg, jpeg, png, gif.
The logo that you upload here will appear on most payslips, invoices, and reports generated by Swingvy associated with your company's Swingvy account.
See add company logo
Step 2 - Enter your company name
Enter your organisation name. For example, Synergy Sdn Bhd, and Synergy Pte Ltd so on. This is the company name that will appear on all of the payslips, invoices, and all reports generated by Swingvy.
2. Configure your office details
Office settings are where you enter basic info about your business, like your company address, workgroup, and company holiday.
You can add multiple branches of your company. See add company branch.
Follow the steps detailed below to update your office details:
Step 1 - Set your office location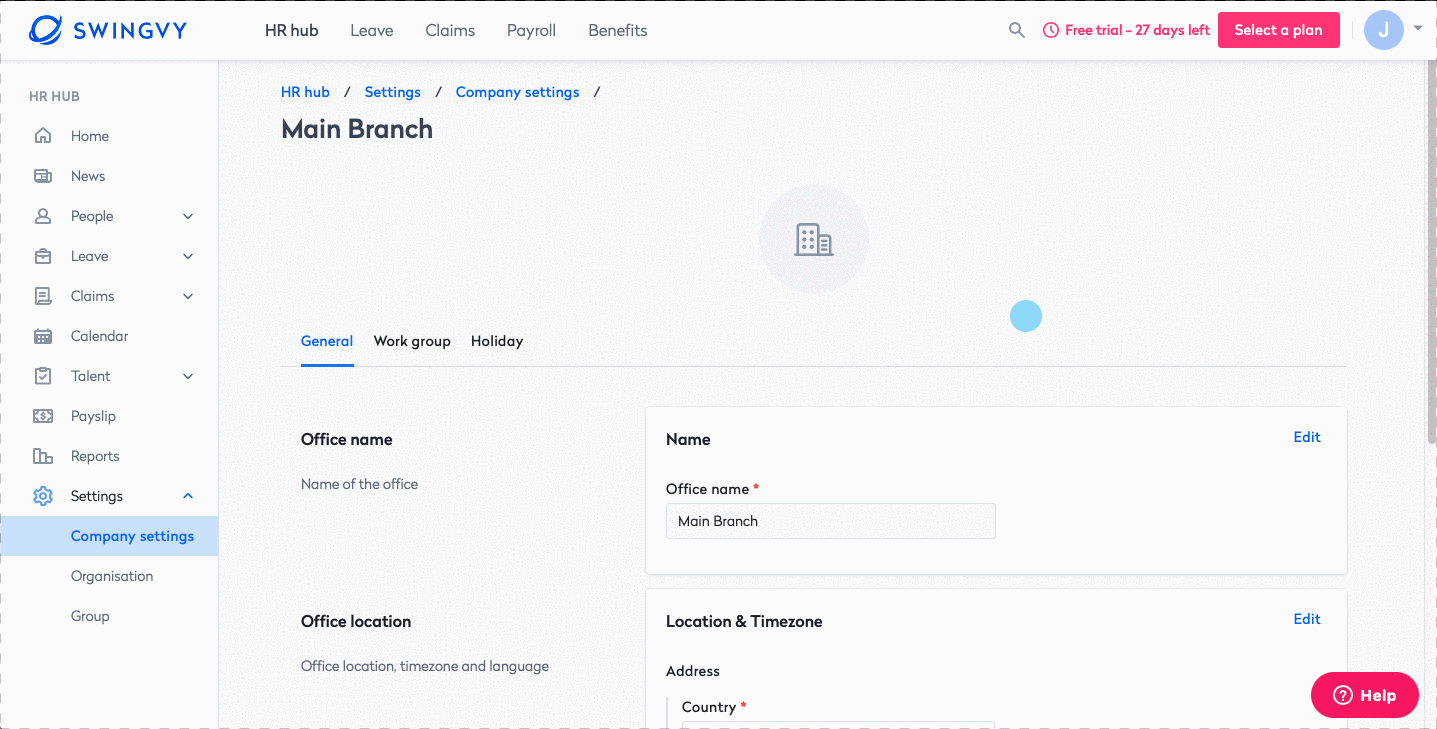 Step 2 - Set a workgroup working schedule type
Select the office you want to configure. In this step, you will define the type of workday and choose employees that belong to this group.
You can also add a new workgroup and custom their workday schedule type.
Step 3 - Set company holiday
A holiday means a public holiday established by law in Malaysia/Singapore or any part of Malaysia/Singapore. See how to set up a company holiday